I'm back from Brazil! It was a very good trip, but unforunately my plans to read several books were thwarted by a) the Martian Death Flu contracted shortly before leaving, so I spent the plane rides down staring at the tray table in front of me and tending to my baby and b) travelling with said baby. I did however get a mystery read, which will be posted later in the week.
My husband, baby and I flew down to Rio to visit my parents and see the sights, then took a side trip to Foz do Iguaçu to see the waterfalls there. Rio is a very interesting city, and the waterfalls are possibly the most amazing thing I have ever seen. It was a liberating to take a major trip with my baby and realize that while yes, it is harder than travelling with out him, it is still doable. Since travel is hardwired into my being, this was encouraging. I'm already planning our next trip – as soon as we can fund it!
Me and Mr. Baby experiencing the Atlantic Ocean – he was not a fan. Too cold, Momma!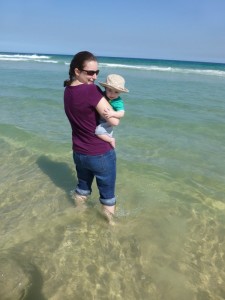 Gramps and Mr. Baby in front of the waterfalls.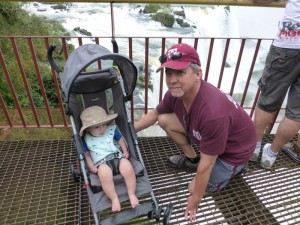 Me, my husband, Mr. Baby, and Nana on they way back to Rio.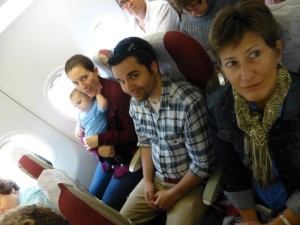 So – crazy to travel with a baby? What trips have you taken with your children? How old did you wait to start travelling with them?