Book: Lost in the Woods (2004) by Carl R. Sams II and Jean Stoick
Category/Age: Picture Book (Older)
Blurb:
The authors of New York Times' best-seller, Stranger in the Woods, bring you this beautiful springtime fantasy about trust, patience and waiting for your time. Woodland creatures are concerned for a newborn fawn they believe to be lost.
Review:
One thing I've never understood about human brains is the connections they're able to make between the symbolic and the concrete. It's really mind boggling, especially in very young children.
Take the following: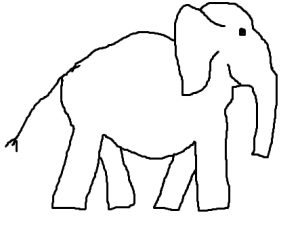 What is it? Well, obviously it's an elephant. A rather well done elephant, if I do say so myself. But it's not really an elephant, it's a collection of lines on a screen in a vaguely elephant-like shape. How is it that people can immediately recognize, "oh, elephant!"? It doesn't have the same actual shape, texture, depth, color, etc. as a real elephant. It kind of boggles my mind.
Here on the other hand, is an actual elephant: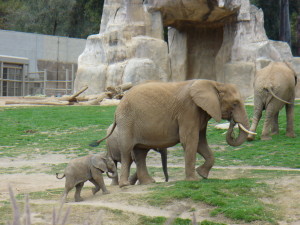 Well, again, it's not really an elephant, but at least it's the photograph of a real elephant, so we're much closer to the real thing. I've always been curious to see if a child brought up on cartoon pictures of animals would be able to recognize the real animals from their simple, stylized drawings, if they had never before seen the real, live counterparts. If you think about it, much of what makes up the visual part of the animals: color, texture, movement, etc. is just not captured in most children's books. To say nothing of the smell.
But anyways, the point of all this rambling (I do have a point!) is that this book, Lost In The Woods, is a different style children's book in that it's photographs of animals instead of illustrations. It makes a wonderful addition to any young child's library, and has a great cast of woodland animals. The pictures are absolutely lovely; you'll find yourself wanting to reach out and touch the baby animals.
It also makes the point that newborn deer are abandoned by their mothers for the first few weeks of life to keep them safe from predators, so if you come across one in the wilds, leave it alone! Apparently they are born without a scent, so the mother only comes back to feed, then leaves again until the fawn is strong enough to keep up with the doe. I didn't know that. You learn something new everyday.
P.S. They also have another one in the series, Stranger in the Woods, that shows forest animals reacting to a snowman. That one is definitely going on my wish list for next Christmas!
P.P.S. Who DOESN'T need an adorable stuffed fawn?!?
*If you use these links to make a purchase, Lector's Books may receive a small commission. This will not affect your price or purchasing experience in any way.